Manila in Atlanta: OpenStack Summit Recap
Welcome to the OpenStack @ NetApp blog – there's a lot going on here at NetApp around OpenStack, so we thought starting a blog would be a great way to get the word out! I'm Bob Callaway, Technical Marketing Engineer within the Cloud Solutions Group - the business unit within NetApp tasked with helping our customers harness the power of NetApp's storage and data management solutions in the cloud – public, private, or hybrid – to become stewards of their data wherever it resides.
About two months ago, NetApp sent a large contingent of folks to the biannual OpenStack Summit in Atlanta – where developers, operators, and users converge – (yes, both suits and hoodies were there) – to talk about their experiences around OpenStack, learn more about what's new in the ecosystem, and help design the next release of OpenStack!
While there was a lot of energy around what NetApp is doing in OpenStack, I was most excited to see the energy around Manila – (not the city in the Philippines - we were in Atlanta, after all) – the OpenStack File Share Service! Manila allows users of OpenStack clouds to provision and securely manage shared file systems through a simple REST API. Manila's share network concept links the tenant-specific Neutron network and the storage system providing the file share together to ensure a secure, logically isolated connection. Manila has a modular driver architecture, similar to Cinder, that allow different, heterogeneous storage solutions to serve as provisioning backends for file shares.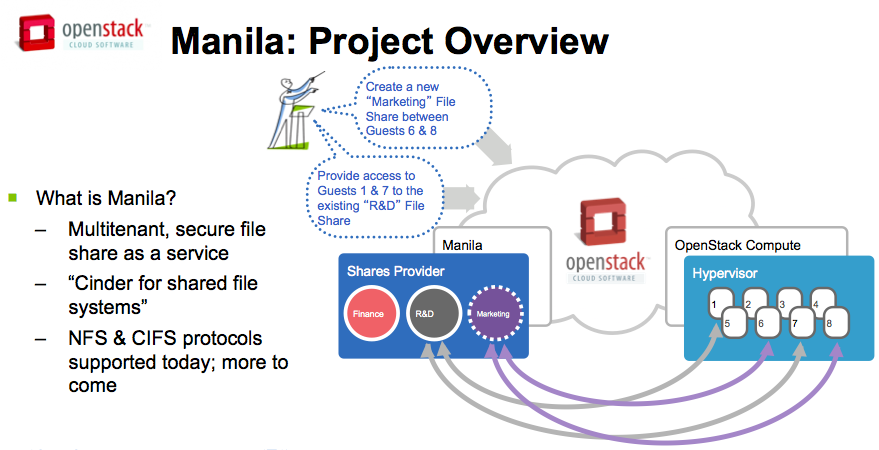 There was a great 60-minute general session on Manila, which gave an overview of Manila, its API structure and key concepts, an architectural overview of the service, and then information on the growing number of drivers being integrated into the project. In the spirit of the community – we had seven presenters – representing NetApp, Red Hat, EMC, IBM, and Mirantis – all vendors who are active within the Manila project. Here's a link to the recording in case you weren't able to join us - https://www.youtube.com/watch?v=fR-X7jbG5QM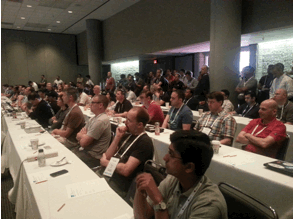 Leveraging the fact that we had many of the key project leaders all together in the same city – and wanting to harness the great energy level from earlier in the day - NetApp sponsored a Manila design session different from all others held in conjunction with the summit. We all gathered for a great technical discussion at a local sports bar where we discussed the state of the project, the key design and delivery items for the Juno release, and enjoyed some great food and beverages!
Want to learn more about Manila? Get started by checking our wiki page @ http://wiki.openstack.org/wiki/Manila or jump on IRC - we're always hanging out in #openstack-manila and #openstack-netapp on freenode! We've got weekly meetings at 1500 UTC in #openstack-meeting-alt on freenode as well.