NetApp in Tokyo: OpenStack Summit Recap
About two weeks ago, NetApp sent a large contingent of employees to the biannual OpenStack Summit conference – this time in Tokyo, Japan! 5,000 Developers, operators, and users from 56 different countries converged to talk about their experiences around OpenStack, learn more about what's new in the ecosystem, and help design the next release of one of the fastest growing pieces of open source software in history: OpenStack!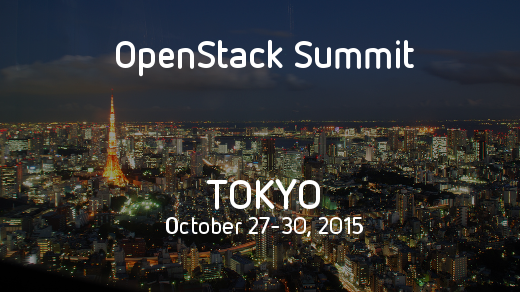 Manila
The biggest announcement was that the Manila file-share-as-a-service project is now production ready for the mainstream enterprise. NetApp's open source contributions to Manila provide an automated, on-demand, scalable service for delivering shared and distributed file systems using an open, standardized API developed within the OpenStack community.
As the founder of the Manila project and a charter member of the OpenStack Foundation, NetApp has contributed deep expertise and technology that enable application developers to choose the best cloud storage model for their applications. Because file shares can be offered as a service, they can be self-served and migrated, no matter whether the cloud is on or off the premises or is private or public.
If you want to learn more about Manila (and how to deploy it in OpenStack Liberty), check out our Deployment and Operations Guide @ http://netapp.github.io/openstack-deploy-ops-guide/liberty/content/ch_manila.html
You can also jump on IRC - we're always hanging out in #openstack-manila and #openstack-netapp on Freenode! We've got weekly meetings at 1500 UTC in #openstack-meeting-alt on Freenode as well.
October 2015 User Survey
The OpenStack Foundation conducts a User Survey every 6 months (roughly concurrent with the advent of a new release) that profiles how and where OpenStack is being deployed. NetApp has consistently been rated as the leading commercial storage option for Proof of Concept, Development and Q/A, and Production environments. The latest survey was no exception.
See the results here, specifically on page 31: October 2015 OpenStack User Survey.
NetApp Sessions in Tokyo
We had some good representation from NetApp at the Tokyo Summit's speaking sessions. If you weren't able to join us in person, please feel free to watch recordings via the table below:
Tech ONTAP Podcast
The NetApp Tech ONTAP Podcast covered the OpenStack Summit in Episode #13. For more information and where to listen, head over to this blog post on the NetApp Community site.
NetApp Insight Berlin
NetApp Insight is NetApp's annual technical conference for storage and data management professionals. Occurring next week from November 16-19, 2015 in the CityCube in Berlin – Insight gives customers, engineers, consultants and partners a forum for learning from industry experts and each other.
Choose from more than 300 technical sessions, participate in self-paced Hands-On Labs, earn NetApp Certifications at no cost, and see exciting new technology at the conference. You don't want to miss this event.
If you are going to be there, be sure to stop by our booth in the NetApp Pavilion to discuss all things OpenStack! If you're not able to make it to Berlin, be sure to see what we're up to in real-time using Twitter. Watch the hash tag #OpenStackNetApp to see what we're up to!